Searching for some last-minute stocking-stuffer ideas for the beauty buffs on your list?  I've got you covered!
Suvana Beauty – Certified Organic Paw Paw and Honey Balm
Suvana's Certified Organic Paw Paw and Honey Balm ($14) makes a fabulous natural, organic, good-for-you lip balm, as well as soothing any other areas of dry skin you may have.  It comes in a generously-sized (.88 oz) recyclable tube and is not tested on animals.
I use it mainly as a lip balm.  It has a shiny finish (but no color) and good staying power, and it leaves lips soft and hydrated.  The balm is unscented and unflavored, though I do detect just the tiniest hint of delicious honey.
It can also be used on bites, scratches, and itches (and the fellas may find it useful for soothing shaving nicks).
Papier d'Armenie Burning Papers and Terra Cotta Dish
Here's something a little bit different for the home fragrance aficionado on your list.  These burning papers ($7 for a pack of twelve) pack a powerful fragrance punch.  An alternative to traditional incense, they burn much faster but have a similarly long-lasting effect.
And did I mention they smell divine?  Both the rose and the original benzoin scents will fill your room with the most delightful aroma.
Tear one paper from the book, fold it in thirds, accordion-style, place it in the beautiful terra cotta dish ($13), light it and then blow out the flame, allowing the paper to smolder down to ash.  The scent will linger for hours.
The 1-oz. size of Caudalie's Divine Oil is currently on sale at Sephora for just $15 (it's normally $18) and would make the perfect stocking stuffer for the body oil addict on your list.  If you want to go bigger, the 3.4-oz. bottle ($48) will also fit nicely in a stocking!
This beautifully-scented dry oil is my newest obsession.  You can use it for your face, body, hair, nails, bath, and even massage – a true multi-tasker!  I carry the 1-oz. bottle in my purse and keep the full-size at home, rarely out of arm's reach.
I spritz it all over after my morning shower, plus on my hands throughout the day and in my hair when I need a bit of frizz control and/or a fragrant pick-me-up.  It is scented with Bulgarian rose, Moroccan rose, plus grapefruit, pink pepper, cedar, vanilla, and white musk.  Divine, indeed.  I often skip the perfume when I'm wearing this, because it's just not necessary.
The beautiful, luxe glass bottle will look gorgeous on any counter or vanity.
LUSH Sophisticated Cream Eyeshadow
My lovely cousin and I exchanged our holiday gifts a bit early this year, and one of the goodies she gave me is LUSH's new cream eyeshadow ($18.95) in Sophisticated (shimmering taupe).  There are a variety of other shades to choose from, but Sophisticated is a really stunning neutral that I imagine would flatter most skin tones.  I know it works well on both my very fair complexion and my cousin's slightly more olive skin.
I dot it onto my lids with the doe foot applicator and then smudge and blend with my fingertips until I've achieved the color intensity I want.  It goes on creamy and dries to a stay-put finish.  The color is buildable, so you can go super-subtle or super-dramatic or anywhere in between.
It feels soothing going on, does not cake or crease throughout the day, and does not irritate my freakishly sensitive eyes.
Laura Mercier Mini Lip Glacé Collection
Laura Mercier Lip Glacé is one of my all-time favorite lip glosses, and this little set of minis ($38) is packed with four amazing shades, including Blush (my personal favorite), Baby Doll, Rose, and Bare Beige.
I'd classify these as semi-opaque, with good pigmentation and hydration.  The finish is glossy but smooth and non-sticky, and the staying power is very impressive for a lip gloss.  There's a little bit of a marshmallow flavor that I don't mind at all, but exercise due caution if you're buying for someone who is sensitive to scents or flavors.
The great thing about sets like this one is that you can give it intact or break it down and parcel out individual glosses to multiple recipients.
Twistband Hair Ties are adorable little ponytail holders that double as bracelets and come in a huge array of color choices.  They are flat and non-bulky (unlike the scrunchies of yore) and will hold your ponytail securely, yet will not dent your hair (or your wrist).  Perfect for the long-haired beauty who needs to keep her hair out of her face but wants the option to switch between up and back down again with style and ease.
You can buy Twistbands individually for $2, in sets of three for $5, or in sets of six for $10.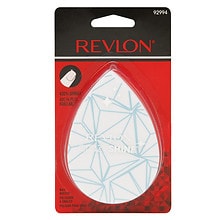 Revlon Crazy Shine Nail Buffer
Finally, one of my favorite nail tools, Revlon's Crazy Shine Nail Buffer ($3.49) can't be beat for a quick, easy, super shiny manicure!  Just use the green side (not pictured) to smooth out the surface of bare nails, then flip to the white side to buff to an unbelievable shine.  Any lady (or gent!) on your list who likes to maintain a well-manicured look will appreciate this one, and best of all, you can pick it up at your local grocery or drug store!
Catherine is an Austin, Texas-based compulsive shopper, beauty product addict, animal lover, and vegetarian.

Her current interests include cardigans, dark chocolate with sea salt, lip balm, floral scents, and trying out new and interesting vegetarian recipes.

You can find her elsewhere on the web on Twitter at @catvoncat.