Meet my latest lip product obsession: Chantecaille Lip Chic.
Really, it's more of a revived obsession, since I cycle through lip products like whoa and I already went through a Lip Chic phase a few years back, but the point is, I have been buying up all the Lip Chics lately.  One for every day of the week.
The shades are so gorgeous that I can't help myself.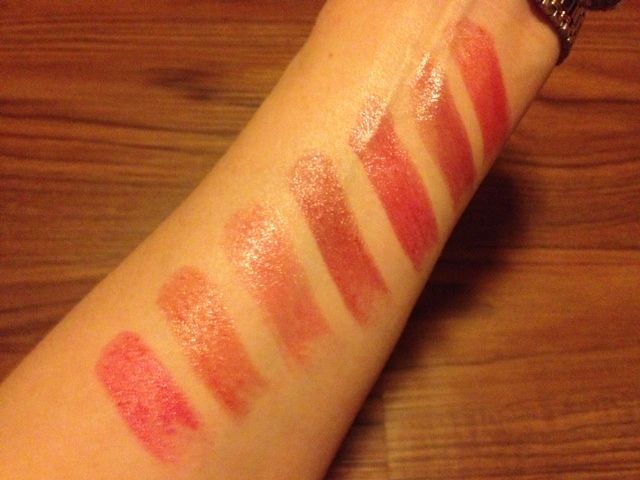 Bottom to top: Rose Delice, Tea Rose, Bourbon Rose, Heirloom, Violetta, Damask, Nocturne
Lip Chic wears comfortably and doesn't dry out my lips.  The texture is somewhere between a lipstick and a tinted balm, with an impressive color pay-off and good staying power, leaving behind a bit of a stain as it fades.  It is scented with a lovely hint of vanilla and has a glossy finish.
The color is buildable and you can easily thin it out a bit with a dab of lip balm over or underneath.
Packaged in a sleek, gunmetal, slant-tipped tube, Lip Chic is easily portable and looks super stylish when you pull it out of your bag for a quick touch-up.
My only complaint is that you have to be careful when reapplying or you risk having the color bleed around your lip line.  I find that it's best to wipe your lips clean before reapplying and start from scratch to avoid ending up with a messy, smudgy look.
That is a price I am willing to pay, however, since Chantecaille has some of the most beautiful lip shades on the market.  Heirloom, a medium wine shade, is my go-to because it looks good with literally everything, but honestly, all of the shades I have are super-flattering and easy for me to wear, and that is quite a feat.  I can't tell you how many barely-used lipsticks are collecting dust in my collection because they are gorgeous in the tube but not so much on me.
I have yet to find a Lip Chic shade that disappoints me.  I cannot get enough of these.
| | |
| --- | --- |
|   |  Catherine is an Austin, Texas-based compulsive shopper, beauty product addict, animal lover, and vegetarian.Her current interests include cardigans, dark chocolate with sea salt, lip balm, floral scents, and trying out new and interesting vegetarian recipes. You can find her elsewhere on the web on Twitter at @catvoncat. |